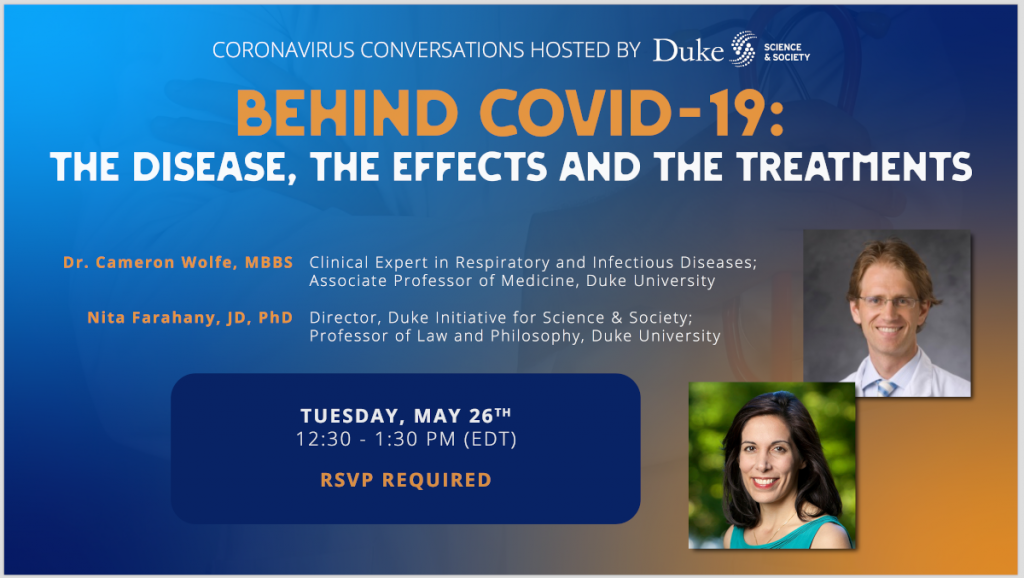 Coronavirus Conversations: Behind COVID-19: The Disease, The Effects, and The Treatments
If you read the news about COVID-19 enough you may start to get confused about what exactly the disease is. What are the symptoms? What is the difference between mild and severe cases? What happens to the body when COVID-19 develops? What are the treatments and are they effective? It can be difficult to know what information is accurate as more disinformation from bad actors takes hold of social media.
Join Duke Science & Society Director Nita Farahany as she talks with Dr. Cameron Wolfe – an infectious disease specialist and leader of the Duke Remdesivir trial – as we demystify COVID-19 and learn about the disease-causing a global panic.
Panelists :
Dr. Cameron Wolfe, MBBS, Associate Professor of Medicine; Clinical Expert In Rbespirartory and Infectious Disease, Duke University
Dr. Nita Farahany, J.D., PhD, Director, Duke Initiative For Science & Society; Professor of Law and Philosophy, Duke University