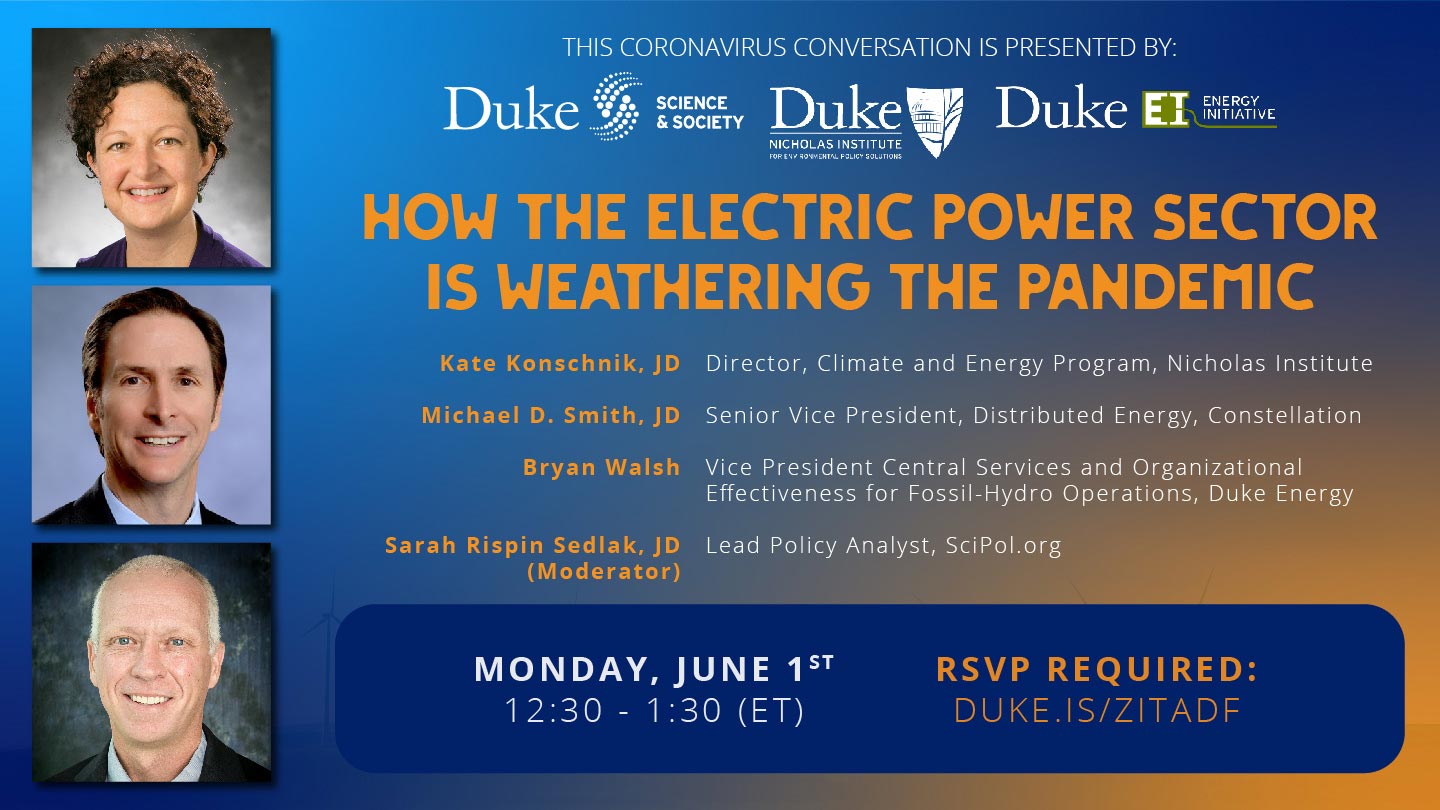 Coronavirus Conversations: How The Electric Power Sector is Weathering The Pandemic
The electric power sector is facing major operational challenges as a result of the coronavirus pandemic. Traditional fossil-fuel-fired electric power plants have taken extraordinary steps to maintain staff availability in the shadow of contagion. Still, in late March, the EPA suspended enforcement of much of its air and water discharge requirements for electric power facilities unable to comply due to COVID-19-related staffing concerns. At the same time, distributed energy saw over 15% of its workforce furloughed, and new installations slowed or stopped, due to stay-at-home orders.
Join our panel of Duke University and industry experts as they discuss how the electric power sector is weathering these challenges—and what the impact might be for the energy transition.
Our Panelists:
Kate Konschnik, J.D.
Director, Climate & Energy Program at the Nicholas Institute for Environmental Policy Solutions at Duke University, Senior Lecturing Fellow at Duke Law School
Kate Konschnik's work focuses on options for public electric utility regulation and electricity market reforms given emerging technologies and de-carbonization goals. She has also worked extensively on effective governance of unconventional oil and gas production and transport. In addition to her role at the Nicholas Institute, she is also a Senior Lecturing Fellow at Duke Law. Konschnik joined Duke from Harvard Law School, where she founded and directed the Harvard Environmental Policy Initiative and taught as a Lecturer on Law. Previously, she was Chief Environmental Counsel to U.S. Senator Sheldon Whitehouse, and a Environmental Enforcement Trial Attorney at the U.S. Department of Justice. Konschnik holds a law degree from the University of California, Hastings College of the Law, cum laude, and a bachelor's degree in political science from Tufts University.
Michael D Smith, J.D.
Senior Vice President, Distributed Energy, Constellation
A 22-year veteran of the energy industry, Duke Law alumnus Michael Smith leads Constellation's distributed energy business, which originates, develops, owns, operates, and maintains innovative customer-sited generation and energy efficiency solutions for Constellation's customers. Previously, he served as vice president, Exelon Generation Innovation and Strategy Development. In that role, he led the development of key strategic initiatives for Exelon Generation and Constellation, as well as the company's overall innovation efforts. Prior to that, he led Constellation Technology Ventures (CTV), Exelon's venture investing organization, where he oversaw CTV's portfolio of investments in companies representing innovative energy technologies and the commercial deployment of new technologies across the Exelon commercial platform. Smith sits on the board of directors of CTV portfolio companies Proterra Inc. and Stem, Inc. He joined Constellation in 2003 and has held various regulatory and commercial roles in both the United States and Europe. Prior to joining Constellation, Smith was vice president and assistant general counsel for Enron Energy Services and a trial lawyer at Bricker & Eckler, LLP. He received a juris doctor from the Duke University School of Law and a bachelor's degree from the University of Miami.
Bryan Walsh
Vice President, Central Services And Organizational Effectiveness for Fossil Hydro Operations, Duke Energy
Bryan Walsh's unit provides engineering services, analysis & support for Duke Energy's coal-fired, gas-fired, and regulated renewables fleet; in addition, they provide oversight for the safety, operations and maintenance standards that govern the Fossil-Hydro department. He has worked in various positions for Duke Energy over the last 21 years, including serving as the station manager of Gallagher Station in New Albany, Indiana and Markland Hydro Station in Vevay, Indiana. Walsh holds a bachelor degree in mechanical engineering from The Catholic University of America, a master's of science in mechanical engineering from The Georgia Institute of Technology, and is a registered professional engineer in North Carolina.
Moderator:
Sarah Rispin Sedlak, J.D.
Duke Science & Society Instructor, Scilpol.org Lead – Energy
Sarah Rispin Sedlak oversees the development and publication of SciPol.org content related to Energy, and is jointly supported by Duke Science & Society and the Duke Energy Initiative. She has extensive experience in administrative and environmental law, having worked in the environmental non-profit sector and private practice. Rispin Sedlak received her JD from the University of Chicago Law School, where she was on the board of the University of Chicago Law Review, and was a member of the Chicago Journal of International Law.