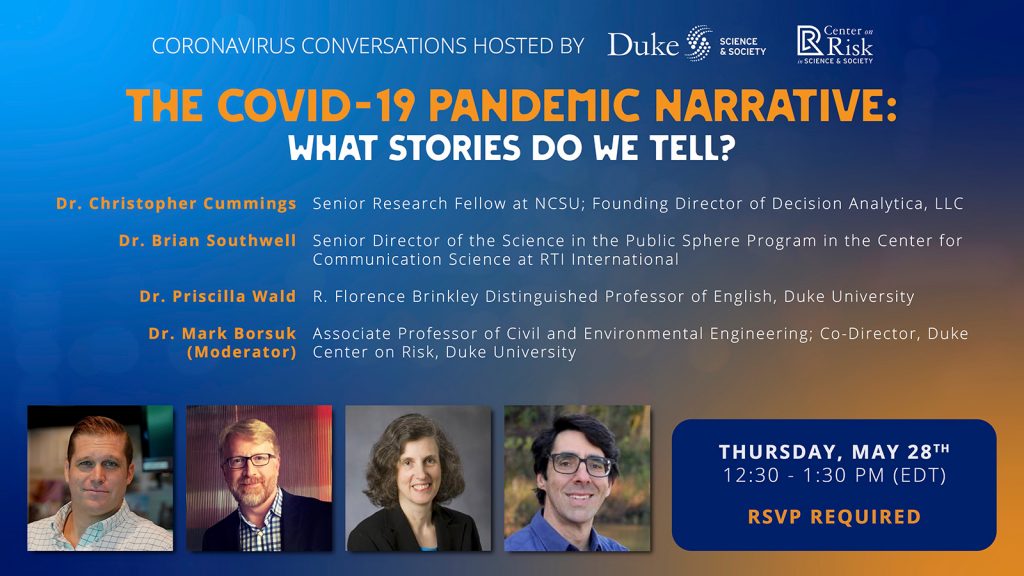 Coronavirus Conversations: The COVID-19 Pandemic Narrative – What Stories Do We Tell?
How society talks about an infectious disease has serious consequences. The so-called "outbreak narrative" of a particular contagion will affect exposure pathways, infection rates, mitigation options, and economic impacts. It can also lead to the stigmatization of particular individuals, groups, locales, behaviors, or lifestyles. How should we understand the level of concern and captivation elicited by the coronavirus as reflected in government decisions, public messaging, and social and mainstream media? Have these responses been commensurate with the actual risks? Has the narrative around coronavirus followed a storyline similar to past contagions?  How has culture, including popular science, fiction, and film affected the public's perception of the current situation? What is the basis for the many conspiracy theories and "alternative facts" that have emerged? Our panel seeks to explore how the stories we tell about this virus and its risks are at the root of how we are all living our lives at the moment.
Join Duke Science & Society and our panel of experts to discuss how we tell the story of the COVID-19 pandemic and why the language we use and the stories we tell matter.
Panelists :
Dr. Christopher Cummings, Senior Research Fellow at NCSU, Founding Director of Decision Analytica, LLC
Dr. Brian Southwell, Senior Director of The Science in the Public Sphere Program in the Center For Communication Science at RTI International
Dr. Priscilla Wald, R. Florence Brinkley Distinguished Professor of English, Duke University
Moderator:
Dr. Mark Borsuk, Associate Professor of Civil and Environmental Engineering, Co-Director, Duke Center on Risk, Duke University