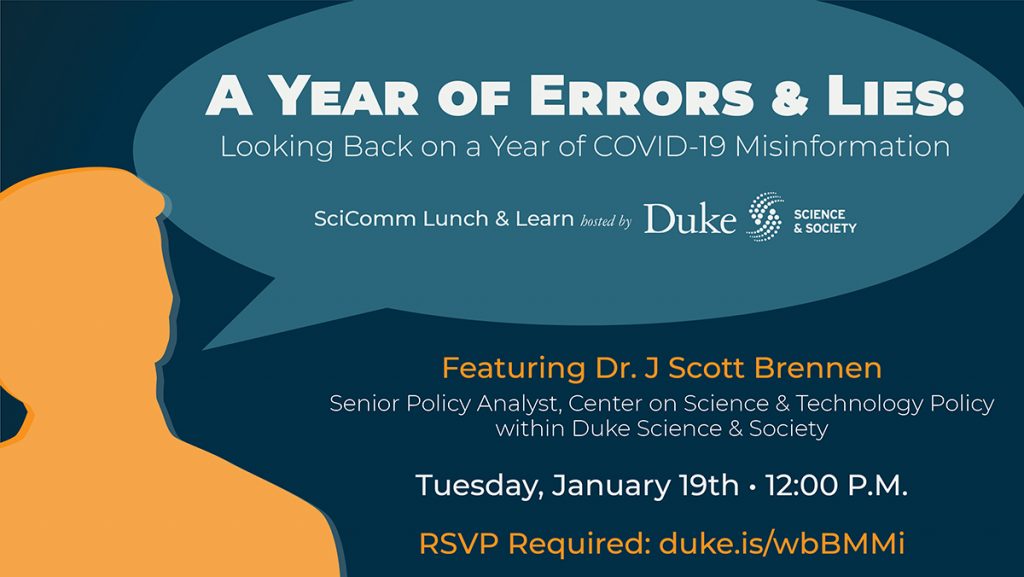 Lunch and Learn: A Year of Errors and Lies
As the coronavirus spread across the world, so did a torrent of falsehoods and misunderstandings. But what sort of claims did it make? What did it look like? Who spread it and why? And what have platforms and governments done to slow its spread? In this Lunch & Learn, Dr. Scott Babwah Brennen will present findings from a series of research studies on COVID-19 related misinformation while discussing what we have learned and what we still don't know about COVID-19 misinformation.
Dr. J. Scott Babwah Brennen is the senior policy associate at the Center on Science and Technology Policy at Duke Science & Society. Scott is a communication scholar and specializes in dis and misinformation, science communication, and technology policy. Before joining the CSTP, Scott was a research fellow at the University of Oxford, where he led research for the Oxford Martin Programme on Misinformation, Science, and Media, which examined the interplay between media change and misinformation about science, technology, and health.
Register for the event here.