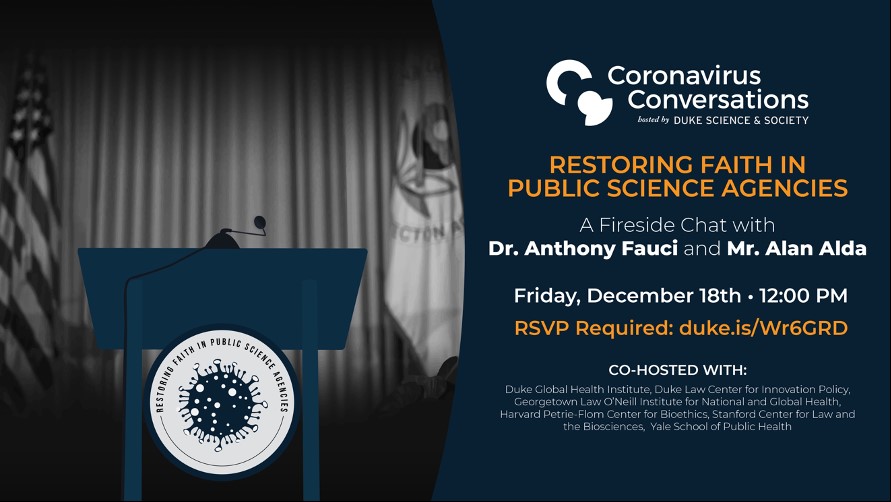 Restoring faith in public science agencies
As the numbers of COVID-19 infections, hospitalizations, and deaths mount, we nonetheless have reason to be optimistic.  Two promising vaccines, developed at record speed using cutting-edge technology, are set to be delivered to our first responders and most vulnerable citizens. A new administration will take office in January, and has promised to elevate science and science-driven policy. But the pandemic is far from over. We must treat the sick, bring infection rates under control, and successfully distribute the vaccine to most of the American public. All of this depends on rebuilding the faith of ordinary Americans in the doctors, scientists, and scientific agencies who should rightfully be leading us through this perilous time.
Join Duke Science & Society and their honored guests, Dr. Anthony Fauci and Alan Alda, in a discussion of how to restore the faith of the American people in science and the scientific agencies—what we must do now, and in the months ahead, to rebuild their trust in these essential actors and institutions.
Co-Sponsored by the Duke Energy Initiative, the Duke Global Health Institute, the Duke Institute for Brain Sciences, the Duke Law Center for Innovation Policy, the Duke Rhodes Information Initiative, the Georgetown Law O'Neill Institute for National and Global Health, the Harvard Petrie-Flom Center for Bioethics, the Stanford Law Center for Law and the Biosciences, and the Yale School of Public Health.
Guests:
Anthony S. Fauci, M.D.; Director of NIAID, National Institutes of Health; Chief Medical Adviser, President-Elect Biden
Alan Alda; Six-time Emmy and Golden Globe Winning Actor; Inventor of The Alda Method®; Founder and Visting Professor, Alan Alda Center for Communicating Science at Stony Brook University
Moderator:
Hank T. Greely, J.D.; Deane F. and Kate Edelman Johnson Professor, Stanford Law School; Director, Center for Law and the Biosciences; Director, Stanford Program in Neuroscience and Society; Chair, Steering Committee of the Center for Biomedical Ethics
Introduction:
Nita Farahany, J.D., Ph.D.; Director, Duke Initiative for Science & Society; Professor of Law and Philosophy, Duke University